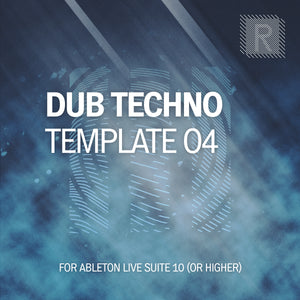 Riemann Dub Techno 04 Template for Ableton Live 10 (and 11 and higher)
Regular price $33.00 Sale
Demo Song
This template is for you if you want to have insight into a mastered, club optimized and fully arranged Dub Techno track in Ableton Live 10 (or higher).

In total you will find 16 layers like a kickdrum layers, hihats, an atmosphere layer, vocal layers as well as 2 synth layers including MIDI files.

The dub chord synths are playable incl. many automations and clever marco mappings.

In this template you can mainly learn how to structure, arrange and buildup a Dub Techno track and how to work with synths and MIDI as well as oneshot samples.

You will also learn how the layers are mixed and you will hear the difference between an unmastered track and a mastered track.

The Riemann Dub Techno Mastering chain is lifting the premaster mix into a new level so it can compete with any released mastered track from Beatport!
Adjust it further according to your taste.

Hint: If you modify the template you can use it for Deep Techno as well, the vibe is similar to Dub Techno influenced by Basic Channel, Moritz Von Oswald,
Monolake, DeepChord, Ben Klock, Marcel Dettmann and Tale Of Us.

The team behind Riemann Kollektion provides you with more than 15 years of experience in Techno production. All sounds are made for maximum impact on large
horn soundsystems like Funktion One, Lambda Labs or VOID.
Fully arranged and mastered Track (5:54) at 120bpm
11 WAV Samples


8 Automations
9 MIDI files

16 Layers in 3 group channels:


1 Dub Techno Mastering Chain
1 Sidechain Layer
2 Kickdrum Layers
2 Percussion Layers
2 HiHat Layers
2 Clap Layers
1 Bass Layer
2 Synth Layers
1 Fx Layers
1 Atmosphere Layer
3 Vocal Layers
2 Send Return Channels

Needs Ableton Live 10 Suite or higher
License agreement:

All audio files are royalty free, in order to use the synths for your own unique compositions you have to change the melodies. The full song as it is cannot be released without making changes of main melodies. Feel free to use the template as a starting point for your own songs, take single layers and change the melodies. You are allowed to release a song made with the help of the template commercially if you have changed all melodies so that the result is musically significantly distinguishable from the original template.