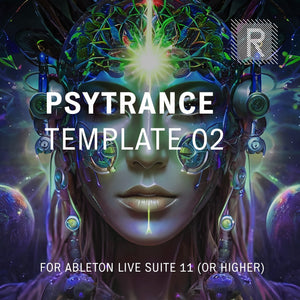 Riemann PsyTrance 02 Template for Ableton Live 11
Regular price $33.00 $33.00 Sale
Demo Song
This template is for you if you want to have insight into a mastered, club optimized and fully arranged Progressive Psytrance track in Ableton Live 11 (or higher).

In a total of 33 Audio and MIDI tracks you will find everything your next Progressive Psytrance Production needs to stand out amongst others.

Everything is organized as professionals would do, for you to learn how the single elements come together and form a whole track!

The sounds and presets inside this template are handcrafted and designed especially for this pack. As most of the tracks are MIDI you'll be able to get deep insight in how the individual sounds get synthesized and how they're used in a full arrangement.

From a club tested Kick and Bass section, including the "Bassman Rack" and the "Kick Bass Glue" from previous Psytrance Packs, you can find a variety of fully customizable Lead-, ARP, Pluck-, Pad- and FX Synths, making this template a super versatile and handy toolbox for your next tracks.

All elements are grouped and colored for you to easily navigate through the structure of the template and to learn how a professional Progressive Psytrance track gets arranged over full track length. The used structure will also teach you how the separate groups get treated not only for mixing but also for mastering.

Get ready to experience the difference between a unmastered and a mastered track: The Riemann 2023 Techno Mastering chain is lifting the premaster mix into a new level so it can compete with any released mastered track from Beatport. Learn what the individual parameters inside the chain do and adjust them to your personal taste. Say goodbye to weak masters, use it in your upcoming productions to make your song stand out!

Inside this pack you will find:

Fully arranged and mastered Track (07:53) at 142bpm (Ableton Live 11 Suite or higher)
13x 24bit 44.1kHz royalty free WAV samples
17 handcrafted instruments made with Ableton´s stock plugins only. No 3rd party plugins needed!

This package includes, but is not limited to:

Bassman Rack V2 
This rack follows only one philosophy: Giving you the best possible Bassline sounds FAST! With full control over Shape, Cutoff, Click, Noise Level and other features you'll never waste time designing your bass line sounds again. Drag it into your project and start making music, now!

Mushroom Up / Down
The most iconic Psytrance effect. Simple, but always effective.
Bass Ducker: A simple but effective "Side Chain" effect for your bass lines and Synth sounds using Auto Pan. No compressors needed. Say goodbye to latency and routing issues and get your bass lines ducked fast and precisely!

Kick Bass Glue 
Glue your Kick and Bass together and make them stand out in your mix using "Kick Bass Glue". This effect rack uses a club tested effect chain to make your kick and bass sound huge and powerful. Safe your master limiter some work, do it in the mix!

X-Filter
Probably the most used effect in Psytrance. Use the "X Filter" on your Kick and Bass Group and let your Kick and Bass fade in and out smoothly - with only one knob! Use the macro "Resonance" to create a bigger effect.

Riemann 2023 Techno Mastering Chain


License agreement:
All audio files are royalty free, in order to use the synths for your own unique compositions you have to change the melodies. The full song as it is cannot be released without making changes of main melodies. Feel free to use the template as a starting point for your own songs, take single layers and change the melodies. You are allowed to release a song made with the help of the template commercially if you have changed all melodies so that the result is musically significantly distinguishable from the original template.