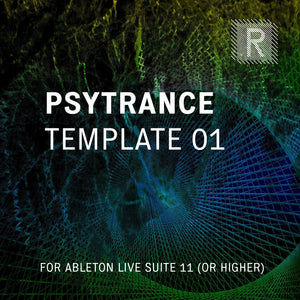 Riemann PsyTrance 01 Template for Ableton Live 11 (or higher)
Regular price $32.00 $32.00 Sale
Demo Song
This template is for you if you want to have insight into a mastered, club optimized and fully arranged Psytrance track in Ableton Live 11 (or higher).

In a total of 37 Audio and MIDI tracks you will find everything a modern Full On Psytrance track consists of.

From a club tested Kick and Bass setup, including an Ableton Live Rack especially built to synthesize state-of-the art Psytrance Basslines, over gritty and cutting edge FM Synths as they're used in today's productions by Electric Universe, GMS, Outsiders, Ajja, Space Tribe, Tristan, Avalon and many more.

You'll have everything to get your first Psytrance track going. With a well established selection of top drum one shots and loops this template gives you a quick start into the Psytrance production process, including all the FX you'll need.

As most of the sound design is done in MIDI you'll get the chance to easily take your own good out of this template by customizing the sounds to your needs, while simultaneously getting deep insight into the sound design classics used in this particular genre.

Everything is organized as professionals would do, for you to learn how the single elements come together and form a whole track!

You will be able to tweak the synths yourself with the clever and simple macro mappings, so you can dive deeper into the knobs and functions of the synthesizers but you don't have to.

This template also teaches you how to easily structure, arrange and buildup a Psytrance track from start to scratch.

You will also learn how the individual layers are mixed and which steps are needed to make your production stand out amongst others.

Get ready to experience the difference between a unmastered and a mastered track: The Riemann 2023 Mastering chain is lifting the premaster mix into a new level so it can compete with any released mastered track from Beatport!
Adjust it further according to your taste.
Fully arranged and mastered Track (5:33) at 145bpm
18 WAV Samples

38 Automations

18 MIDI files/layers

Elements:
1x Psytrance Kick
1x Psytrance Bassline Live Rack
1x Full Drum Kit (One Shots & Loops)
5x FM Synths (using Ableton´s Wavetable synth)
7x Classic Psytrance synths
5x Hand crafted FX synths
6x FX One Shots
3 Send Return Channels

Needs Ableton Live 11 Suite or higher
License agreement:

All audio files are royalty free, in order to use the synths for your own unique compositions you have to change the melodies. The full song as it is cannot be released without making changes of main melodies. Feel free to use the template as a starting point for your own songs, take single layers and change the melodies. You are allowed to release a song made with the help of the template commercially if you have changed all melodies so that the result is musically significantly distinguishable from the original template.